Great news came this week, our inn just received Trip Advisor's Certificate of Excellence Award for 2017!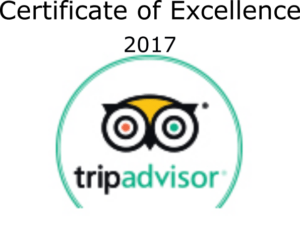 What is the Certificate of Excellence?
It is an annual award given to the top 10% of accommodations on Trip Advisor, based on customer satisfaction.  For us, it means that most people who stay with us leave happy and we're doing a good job.  This is our fourth year in a row we've received the award.  I know there are some really amazing little inns and bed and breakfasts in Veraguas, so I am pleasantly surprised by receiving the award.
Here are some of the other hotels, inn and B&B recipients this year in Veraguas:
La Buena Vida in Santa Catalina
Hotel Sol y Mar in Santa Catalina
Hotel Hibuscus Garden right outside of Santa Catalina
Hotel Santa Catalina in Santa Catalina
Mykonos Hotel in Santiago
Also, there are four hostels in Veraguas who received the award:
Deseo Bamboo in Santa Catalina
Hostel Villa Vento Surf in Torio
Hostel Villa Vento Surf in Santa Catalina
Hotel Iguanito in Santa Catalina