So, you know what's amazing about iphones and the 3G/4G network in Panama- well, you can, as in many places around the world, get internet access on your phone, even in Santa Fe.  As long as your cell phone is compatible, you can go to any store, big or small, and probably even to the guy who sells snocones in the street (I kid you not) and buy a cell phone card.  Activate it on your phone, and you can choose, if you have Mas Movil, for 99 cents a day to use part of that phone card for all you can use internet for 24 hours by pushing four little digits on your phone.  That's all it takes.
So, the columns in the front of the hotel were going up last week.  I really want to see, I really want to see them. Can't wait, can't wait, can't wait.  My husband wants to surprise me, so he says that he's too busy to send pictures.
Let's analyze this.
This means, he'd have to get his phone out of his pocket (he's there every day), aim the camera towards the building, push a button, and then hit send.    The excuse isn't flying over that well.  With that, I give you  a picture from last week, looking towards the balconies (maybe this will prompt him to send a pic-love you hon).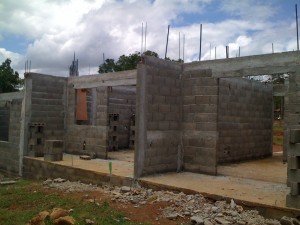 Update: he dropped his phone…oops.   I guess I will be surprised.