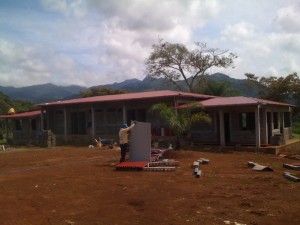 Over the past couple weeks, we (er…my husband) finished putting on the roof and are working on repellando or stuccoing the walls on the hotel in Santa Fe.  I think it looks great so far!  Red it was.
In the foreground you can see evidence of what I term as my husband's new hobby – renting heavy equipment. Now, if you know Cele, you know that he's very neat.  We'll go out for a day on a muddy backroad, and I'll think – cool- we had a great time the mud on the car- wow, it's over the rear view mirror -it's a badge of honor.  He'll think, great, we had a great time, now it's time to clean the car…and worse, somehow he manages to talk you into helping out.  Sigh.
He discovered that you can rent time from owners of the road construction equipment.  In front of the hotel, there used to be a green area, but it had little indentations and hills, the free spirit in me thinking- how nice a little character.  But man, those hills didn't stand a chance once Cele learned about the cuchillo that was in the area.  The upside, we have a nice area for parking…. got motorhome? No problem.
His friend Eliecer is an outreach technician for the coffee cooperatives in the area and helped us (er Cele again) plant 50 different coffee bushes around the inn of different classes, they're planted around the perimeter, currently about 10 inches high.   Eliecer says that one of the kinds only takes 1-3 years to start producing coffee – how great would that be!