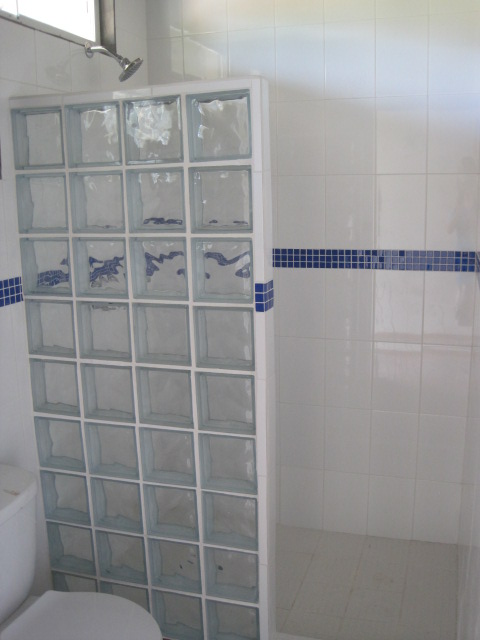 In our newly completed hotel bathrooms, we have these really great  blue glass tile, and the contrast with the white porcelain tiles makes the room seem very crisp.  It seems that everyone's reaction has been -wow, it looks clean.
Now clean is not bad. But, err, shouldn't your inn's bathroom always be clean?
So, I've been trying to think of some special touches so that  people's reactions go to "wow, it looks amazing".  My go to solution for everything has been 'hmm…maybe a plant…or two', that can only work so many times, so I've been trying to get the ideas of others.
My mom thought I should hang a picture rail and put up shadow boxes with molas a type of applique art from Panama's Kuna.  It's a good idea, but the Kuna are in a different province, and I'm not sure how well fabric will hold up.
Side note: Mola evidently is a homonym, and can be confused in conversations with your sister with the word mullah, a title for islamic clergymen.  She may immediately and generously  offer her help with decorating ideas if she hears that your idea is  framing "mullahs" and placing them around your guest's bathrooms.  You may be tempted to frame a mullah and a mola and put them side by side in your bathrooms to see if anyone gets it, but you edit yourself.
Any other ideas?