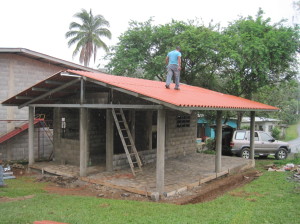 And after two weeks of starting – it's looking great! The total built-out expenses will be about 12-13k, (materials, labor, electric, plumbing, septic connection, tiling, bath fixtures, windows, doors, and I think some furnishings etc…) but that's with Cele donating a lot of time. He's going to get reimbursed for gas and stuff, but still…
Who knew, a construction project ahead of schedule and within budget? So proud of him!
Cele and I are going to be in the states in the next couple weeks. He is hating to leave the construction.