When I was working for the Forest Service, I heard of a family that tried to follow Yahoo maps directions that found the shortest distance between two major town…. along US Forest Service Roads, the unmaintained, forget paved, not even graded kind.  Got stuck, and then were complaining that it was on Yahoo.  This was years ago, and directions have since improved…in the US.
If you've searched for Santa Fe, Panama on Google Maps, you'll see a nice, yellow line marking the highway between Santa Fe to the Caribbean.  You think, oh fun!  I could visit the beach. 
Ah no. 
I love the map in that it builds hope that one day this construction project potentially could be completed.  This could be referred to as a visionary map, a hope map, a potentially some day, somehow, somewhere this road will be built map. Of course with a town of 300 as the final destination and 30km to cut the road one wonders about the funding, but it could be possible map.
But please don't view it as a road map.  You may hear me on the posts refer to a site being along the "road they're building to Calovebora".  This should be interpreted much in line with "along the beach that will be formed when the bedrock erodes" or "near the canyon that will form with the flow of the creek in the back of our inn"…This road has been in the process of being built for a few years, with current funding to go to Rio Luis, which is about 3/4 of the way to Calovebora.  However, between you and me, many road projects never meet their objectives.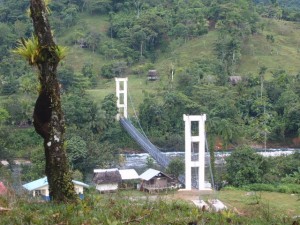 So,while you likely won't visit Calovebora on this trip, I don't blame you for being curious…and the road is a wonderful trip in itself.  Cele and I went hiking to Rio Luis.  The mini-San Francisco like suspended bridge connects Bocas del Toro.  I'll write more about the road itself in another post!