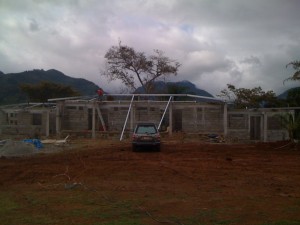 Check out the columns in front!
Cele's been getting up the roof trusses.  His godfather welds, and has been up in Santa Fe for the past week.  Now the roof is taking shape – think it's looking great.  They'll finish the trusses over the next week, weather permitting.  After, it will be time to put the roof itself on!
We had been debating the use of "telagala", a type of fibercement roof that looks like traditional clay roof shingles – or the use of colored "zinc" roof that also looks good, but doesn't have that traditional feel.  The issue was that the telegala shingles  use asbestos – which, as you know, is fine as long as the asbestos particles do not become airborne.  I was having a moral dilemma about putting in asbestos for the construction workers – seems to me that there could be so many conditions for asbestos exposure. Tiles break, fall, and chip.    We ended up costing them both out,  and turns out the the metal roofs  were cheaper!  This made the decision much easier.
We're going with red.  Update: Or perhaps blue