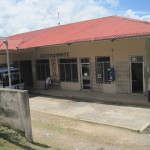 Come join the town of Santa Fe, Veraguas for the FIRST (of hopefully many) monthly clean ups or limpiezas!
When: Friday, May 3rd 8AM
Where: Start at municipio de Santa Fe.  Brindis (and chicha) to follow.
Who: Anyone is welcome.
What to bring: Yourself.  Trashbags will be provided by the municipality.
What if I wasn't invited: You are WELCOME to come anyway!  Please feel free to give my husband (the instigator), Celestino, a call 6988-0921 if you'd like more information.