The drive from Panama City, Panama to Santa Fe de Veraguas takes 4 – 4.5 hours. (Get Directions to Santa Fe, Veraguas) To break up the trip, my husband and I often make quick stops to eat, rest, stretch (of course, we have different favorites). Here is a list of our recommendations.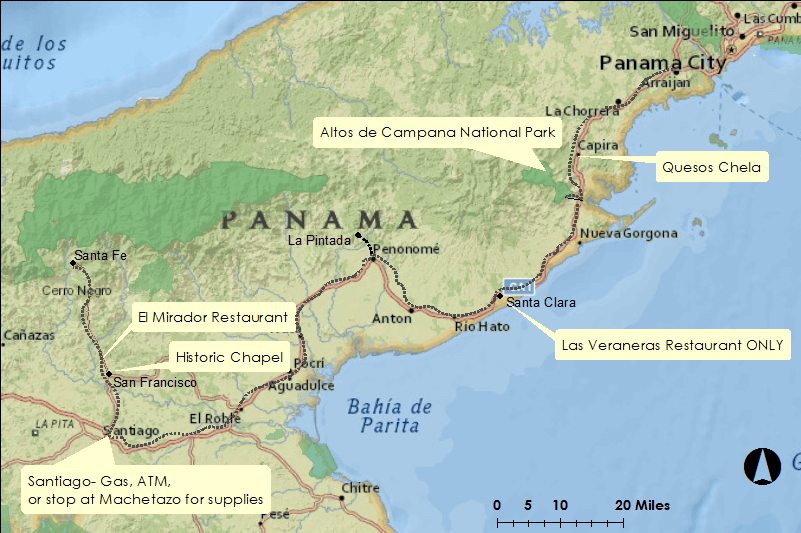 Our favorite stops on the road to Santa Fe (From Panama City)
1. Quesos Chela and Altos de Campana
Her: I love Quesos Chela in Capira.  They are a family owned business, making cheese and breads in small batches.  They have an entrance right off the highway, as you are leaving Capira (off to the right), about an hour or so out the Panama City.  They are well known for a Panamanian drink – Chicheme.  A non-alcoholic blended drink made of corn, milk, and sugar served with ice.  The drink is different than what you're used to drinking-but it's good.  But if you have fussy eaters in your group (including yourself ;)), you might want to pick up one of their many more familiar for the tongue "chichas", homemade fruit drinks, as well.  You can also pick up fresh bread, cheese, and empanadas.
I like to combine this with a picnic at Altos de Campana National Park.  The entrance is another 10 minutes or so down the road, off to the right, as you are heading through the pass.  A 15-20 minute drive up the windy paved road will afford some really great views of the mountains to the marsh areas near Bejuco, and there is both a trail head and an overlook on the road that make good picnic spots.  It is quiet, not much traffic and quite nice.
Him: The food is good, but it is too light for me.
 2. Santa Clara, Las Veraneras
Both:  We like stopping here.
Las Veraneras is a hotel/restaurant locally owned about 2 hours from Panama City.  It's right on the beach in Santa Clara (left turn from the interamerican, when you see Xoco's restaurant) follow the main road until you come to the beach, then make a right, continue for about 150m. The restaurant is great for  lunch at reasonable prices and location -unbeatable.  They have a lovely, large open air restaurant with a palm roof on the sand beach.  While  we wait for the food to be ready, we have gone out for walks on the beach, and have also just sat and talked.  Tip: If you are in a hurry, ask what they have that can be ready in 10 minutes.  If they have a daily special, they'll let you know.
3. La Pintada
Him:  La Pintada is about 10-15 minutes from Penonome  It's a small rural Panamanian town with charm.  It's about 2.5 hours from Panama City.
Her:  It's a nice town, and if you're not in a hurry, a good side trip.
4. Santiago
Both:  Before you come up to Santa Fe, you can stop to get supplies in Santiago, the regional capital. It's about 3-3.5 hours from Panama City.  I don't really like driving around in cities in places I don't know well (countryside – I love).  So we mention a few stops directly off the interamerican highway.
Banks. There are several banks with ATMs on the interamerican (one right next to the Do It Center (to your left near turn off to Santa Fe), one inside the Machetazo).  There are no ATMs in Santa Fe.
Gas.  There is a gas station after you have turned onto the road to Santa Fe and are leaving Santiago (to the left).  Fill up before you come up.  There are no stations in town.
Groceries, snacks, sunscreen.  As you come into Santiago, there is a Machetazo off to your right, in the Galleria shopping center.  It's a good place to buy whatever you need.
5. El Mirador & Iglesia de San Francisco
On the trip up to Santa Fe, you will pass through San Francisco.  It has a historical church dating back to the 1500s, and after you leave town, you will pass by El Mirador, a restaurant & cheese factory.  They have great views and cheese, great prices, and just OK food.