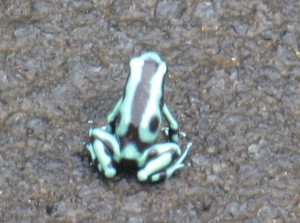 You want the story to be like this: we were traveling through the jungle, it was humid, and 95.  Our 4×4 had gotten stuck in mud 4 miles back, and we were making our way on foot, machete in hand, and we saw the elusive D. auratus, a morph of the poison dart frog.
The story was actually like this, we were in our air-conditioned car, on the way to buy eggs, and who did we see hopping along the road – but this poison frog!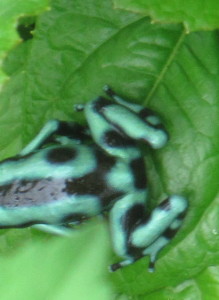 We also got a headless shot, as it hopped off the road.
It was on the road to Alto de Piedra.  I wonder if it is the Alto de Piedra morph or the Santa Maria morph.
Actually, once the Dendobrates auratus was very common in Santa Fe, but since the Chytrid fungus, their population has been believed to have declined dramatically.  Read more about the species here